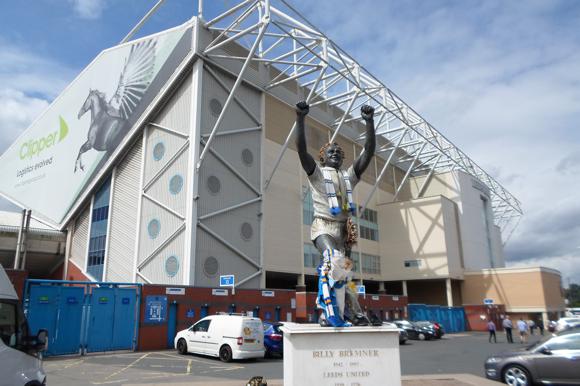 By Ian Molyneaux                                                                                               Photo by @WacoeeOnline
Today marks the 20th anniversary since the iconic Leeds United midfielder Billy Brenner passed away.
Bremner made nearly 600 appearances for Leeds during his career and won more than 50 caps for Scotland.
Bremner has been voted the greatest player of all time for Leeds and in his honour a statue was erected at Elland Road in 1999.
One of Leeds United's most well-known super fans is Gary Edwards who has written a series of books on Leeds and attended his first game in 1965-66 season.
He said: "Bremner was a fantastic man, he optimised everything Leeds United stood for.
"I wish we had two of him now or even one would do. He was absolutely superb. He was a great captain.
"People obviously hated him for the club he played for but everyone wanted him in their team."
Bremner was known for his character off the pitch as well as his actions on the field which further endeared him to the fans.
Edwards said: "We were playing either Portsmouth or Plymouth on my birthday and my mates had arranged for me to meet him after the game.
"Billy gave me a ball signed by the players and himself. I still have that photograph of him in his sheep skin coat."
Bremner eventually left the club in 1976 when he transferred to Leeds but he was never forgotten by the fans.
Edwards said: "His legacy is second to none and even youngsters talk about him now as if they saw him.
"He's part of the club even though the youngsters never saw him.
"I doubt they'll there will ever be another player like Billy. An absolute incredible player."
Leeds United today posted photos of Bremner and tweeted: "On this day 1997, a legend passed #NeverForgotten."